Come to work with us
Come to work with us. Honey Monsters have 2 Kindergartens (can be called also Daycare) in Espoo! We gladly add more names to our substitute list, providing that you are a student of Early Childhood education or have long experience of working with children. From time to time we are seeking qualified Kindergarten Teachers or Assistant Teachers. There may also be needs for longer-term substitutes e.g. because of maternity leaves.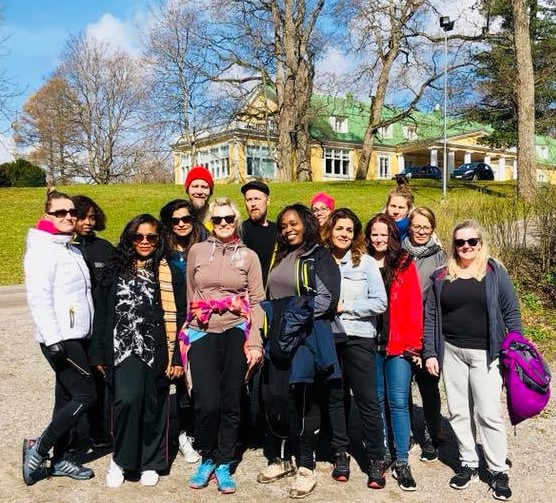 Honey Monsters is a private English-speaking immersion Kindergarten. It has been owned by the parents' association since 1993. The Kindergarten has two locations in Espoo: Tuomarila and Olari. The first language of the children is Finnish. The children are 4-7-years old, and there are currently 77 of them.
Honey Monsters Kindergarten uses the Early Total Immersion Method. The method is suitable for all. The only criterion is that the child's first language skills are on the normal level of his/her age groups' language skills.
The Early Total Immersion Method originated in Canada in the late 1960s. It is a language teaching method that aims for bilingualism by using the new language. The Honey Monsters staff always speaks in English when they talk to the children. The staff is expected to understand Finnish, which the children are allowed to use.
Teachers use facial expressions, gestures and picture cards to aid communication. The normal daily routines of the kindergarten, such as songs, rhymes, stories, plays and practical situations, make the environment suitable for language acquisition. Children are allowed to use Finnish, but they are encouraged to increase their use of English when they communicate with our teachers. Our teaching is based on the children's needs, and the days are full of fun activities. The teachers create situations for using the language through work and play in the Kindergarten play centers, by inviting visitors, by taking trips and by themed teaching.
Short-term Substitutes
We gladly add more names to our substitute list. For students of early childhood education, it is a good opportunity to work in the field once in a while. We expect that you at least understand Finnish, speak good English, that you are responsible, that you get along well with people and that you enjoy working with children. Please contact Kindergarten Director Iivi Kurki and make an appointment. First, spend a morning with us observing our ways of working and become familiar with the necessary documents. Criminal record for working with children is required. Then after that, we'll give you a call when a substitute is needed.
Longer-term employment
From time to time we are seeking qualified Kindergarten Teachers or Assistant Teachers (Nursery Nurse). Please call and ask about our current situation.